Discover more from Artists Up Close
In-depth and intimate profiles of emerging and established artists.
Navigating Your Artist Money Path
Starving artist passion, creative celebrity wealth, or something in between? Let's explore today's artist money paths through Van Gogh, Warhol, and their contemporaries.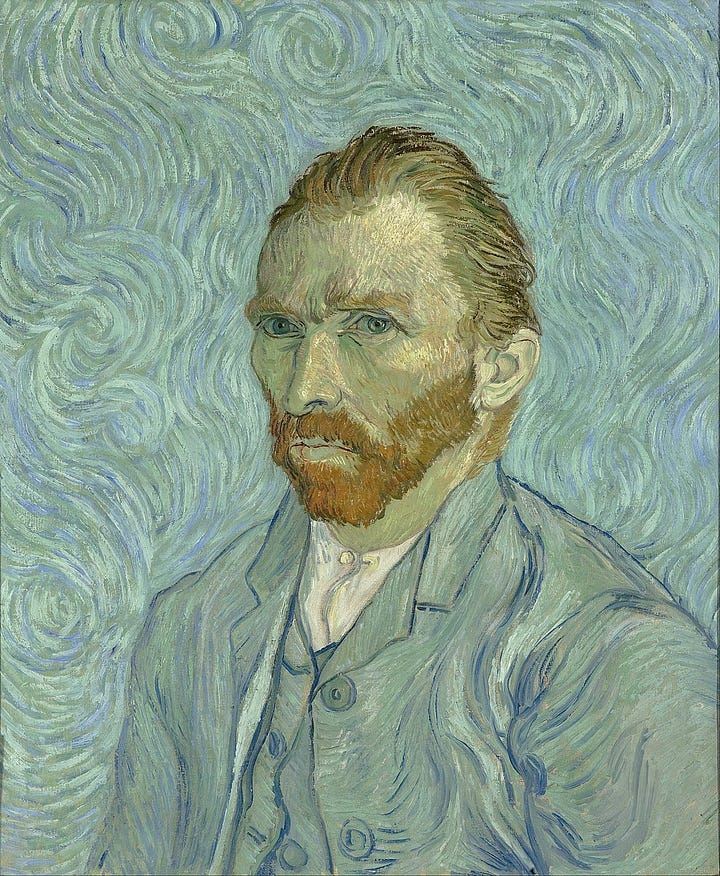 "I would rather die of passion than of boredom." - Vincent Van Gogh
The notion of the 'starving artist' and 'celebrity artist' casts a long shadow on today's art scene. No two artists embody these archetypes more vividly than Vincent Van Gogh and Andy Warhol. Van Gogh, who created 2,100 artworks, only sold a few in his lifetime and died in poverty in 1890.  By contrast, Warhol emerged as the kingpin of pop art in the 1960s and 70s, amassed substantial wealth, and founded The Factory, a hub for celebrities, intellectuals, and other artists. But what implications do these distinct journeys have for contemporary artists? Are today's creatives destined to choose between two financial extremes? Or, is another path possible?
"Making money is art and working is art and good business is the best art." - Andy Warhol
The Artist Life In Extremes
Van Gogh often donned threadbare clothing and lived in mostly dilapidated buildings in the poorest parts of Paris. He was passionate, committed to his craft, and valiantly rejected the pursuit of material wealth. His story fits neatly into the romanticized vision of the tortured but genius artist, an idea that has its roots in the romantic era in Europe during the 18th and 19th centuries. At the time, there was a cultural shift from prioritizing reason, science, and emotional restraint to valuing expressive emotion, individualism, and nature. Then the post-World War II economic boom brought the rise of consumerism and pop art which challenged the sanctity of 'high art.' Warhol was a central figure in this new movement. And his use of mass production and advertising techniques made him famous and rich. But despite the very visible extremes of these artists' lives, there were always notable creatives who found a middle path.
The Middle Path
Artists like Émile Bernard and Henri-Edmond Cross, contemporaries of Van Gogh, managed to find moderate success and appreciation during their lifetimes without becoming impoverished or reaching global celebrity status. Amongst Warhol's contemporaries, artists like Rosalyn Drexler and Larry Rivers thrived, carving out niches and achieving respectable success without the celebrity trappings that eventually engulfed Warhol's life.
Vincent Van Gogh Contemporaries:
Émile Bernard (1868-1941)
Bernard was known for his post-impressionist work and was an important figure in Symbolism.
Financial Middle Path: Bernard continuously nurtured relationships with art dealers, wrote, taught art classes and workshops, and often traded works with other artists, ensuring a constant but modest stream of income and a valuable collection of art. His many showcases in Paris ensured his art found new audiences and sold for decent prices, which allowed him to maintain a comfortable lifestyle most of the time.
Henri-Edmond Cross (1856-1910)
Cross was a significant figure in Neo-Impressionism.
Financial Middle Path: Regular exhibitions and avant-garde artist connections, earned Cross moderate financial success. And his alliance with art dealer Alexander Bernheim ensured that his works consistently sold and provided him with a financially stable career.
Andy Warhol Contemporaries:
Rosalyn Drexler (1926-Present)
Drexler is known for her pop art paintings, novels, and plays. Her work often explored themes of violence, celebrities, and sexuality.
Financial Middle Path: While never reaching Andy Warhol's celebrity status, Drexler achieved success both as an artist and a writer. She enjoyed multiple exhibitions, awards for her novels, received grant money and fellowship awards, and had a presence in the pop art scene in New York. Her diverse talents provided multiple streams of income and ensured her a comfortable living.
Larry Rivers (1923-2002)
Often described as the "Godfather" of Pop Art, Rivers combined pop art and elements of abstract expressionism into his work.
Financial Middle Path: While Rivers never reached the same level of celebrity or wealth as Warhol, his art was featured in numerous exhibitions and he was recognized for his contributions to American art. His success produced a decent income without the pressures of excessive fame.
Find Your Artist Money Path
Today, many artists struggle to navigate the turbulent waters of financial stability while holding fast to their artistic integrity. In a world driven by likes, shares, and viral moments, it's easy to feel torn between creating for passion and producing for profit. However, the stories of Van Gogh, Warhol, and their contemporaries remind us that the spectrum of artistic success is vast and varied. Each artist must carve out their own unique journey and find a balance that resonates with their values, ambitions, and circumstances.
Does your artistic spirit align with the money path of Van Gogh, Warhol or their contemporaries? Join us on Friday, October 20, 2023 at 7pm to dive deeper into this conversation, connect to fellow artists, and find inspiration to chart your unique journey in today's rapidly evolving art world. At this event we will discuss the challenges, opportunities and choices artists face today.
The artist journey isn't defined solely by passion or profit,
but by the unique path each artist forges
in their pursuit of expression and sustainability.
Event Details
- Date: Friday, October 20, 2023
- Time: 7:00pm – 8:30pm
- Location: Blue Cone Studios, Seattle, WA
- Tickets: $25
Don't miss this chance to be part of a vibrant community, eager to share, learn, and grow. Grab your tickets today!
Event Attendee Testimonials
Some reviews of our "Male Nude Taboo" event with photographer Ann-Marie Stillion:
What attendees are saying about our other past events:
Artists Up Close is a reader-supported publication. To receive new posts and support my work, consider becoming a free or paid subscriber.